Below you will find guidance to help you prepare and design your peer assessment activity.
Preparing and designing your peer assessment
Peer Scoring or Peer Review?
We have categorized peer scoring as a task through which individuals working on a group project give each other a numerical score based on a 0-5 scale in various categories (see 'Evaluation Method' below) in order to identify and recognize differing contributions.
Peer review aims to prompt students to reflect on their practice, encouraging self-awareness and personal development. In this approach, peers are used in a more supportive capacity. Their role is to offer feedback, to develop their constructive criticism and communication skills by providing their perspective on the reviewee's strengths, as well as to deepen their understanding of the learning objectives and reflect collectively on improving both individual and group practice.
Tools
We currently have three peer assessment tools integrated with Blackboard:
Buddycheck – a peer scoring tool

Group members, who have completed and submitted a piece of group work, review and score each member based on 5 categories – see 'Evaluation Method' below. These results can then be used to identify issues in group dynamics including non-contributing members, and the software can also be used to adjust individual scores in the grade centre.
Eduflow – a peer review tool
Eduflow focuses on peer feedback and self-reflection via a peer feedback rubric – see 'Evaluation Method' below. Eduflow supports various submission formats and integrations, so can be useful for peer reviews of videos, images and websites, as well as written work. There is also an option to attach marks to the reviews, which can then be linked to a grade centre column.
Turnitin PeerMark – a peer review tool
Turnitin PeerMark focuses on peer feedback. The addition of a PeerMark assignment within Turnitin allows staff to allocate submissions to another student for peer review. Therefore, students will receive both instructor feedback and peer feedback, from a single assignment submission.
Preparation
Successful peer evaluations require a shared understanding of the value of the evaluation process. It is important to explain the reasoning behind peer assessment – what a student and their peers will gain from the process; what is expected of them both as a member of the group and/or as an 'assessor' of their peers; and how to assess each other in a constructive and objective manner.
Click the link below to view the student guidance for ideas and resources to share with your students when preparing them for a peer assessment task – including a 'What to expect' guide for both Buddycheck and Eduflow. There is also a template 'Buddycheck Explanation' document below to use to explain to the students what Buddycheck is and how the marks are adjusted in more detail, as well as answering FAQ's.
Student Guidance: Peer Assessment Tools
Buddycheck Explanation – please use this as a reference only and modify to your course and students as required
If the results are to have an impact on their final grade, it's advised to have a couple of non-summative runs in order to familiarise the students with the tool, and for any group dynamic issues to reveal themselves early on in the process. So we recommend preparing your peer assessment tasks before the start of the semester to make sure you have adequate time to communicate and introduce the task to the students.
Preparation and clear assessment criteria are essential to supporting effective peer assessment. Before getting started with either tool, we have identified a few areas that need consideration:
What are the objectives of the peer assessment in relation to the skills/learning outcomes of the unit/module? An example of learning outcomes for a peer assessment task could include:

LO1 – The ability to demonstrate reflective, analytical and critical thinking: How well does the text tell you what the person learned from analysing or thinking critically and reflectively about their experiences?
LO2 – The ability to demonstrate planned and purposeful development: Is it clear that the person has taken specific steps to try to improve their chosen skills and their impact, and sought opportunities to improve, rather than simply waiting for opportunities to come to them?

Do you need a quantitative or qualitative assessment, or a mix of both, to achieve the above objectives?
Will the assessment/s will be formative or summative?
Will the assessment/s be anonymous?
Will students provide feedback on the usefulness of the feedback they have received?
Who is assessing whom?
Evaluation Method
Buddycheck
The default evaluation questions in Buddycheck are based on the 'Comprehensive Assessment of Team Member Effectiveness' (CATME) framework, developed by Purdue University, which is a proven method based on extensive academic research. For more detail on the framework, visit the CATME website here.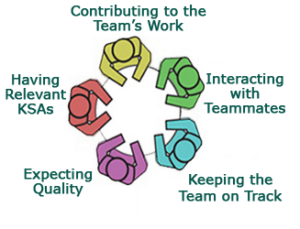 In brief, the framework proposes five different 'teamwork' dimensions for evaluation:

Contributions to Teamwork: producing work, contributing to discussions, aiding others.
Interacting with Teammates: listening to others in the group, liaising between different group members, encouraging others, being receptive to feedback.
Keeping the Team on Track: monitoring group progress, intervening when there are issues, giving constructive feedback.
Expectation of Quality: motivating others in the group, investing time and effort into the work, believing in group capability.
Knowledge, Skill & Ability: demonstrating and acquiring knowledge / skills / ability, the capability to adopt different roles within the group.
You are also able to modify the questions as needed, if you have your own set of areas to review that are specific to you course/learners.
Eduflow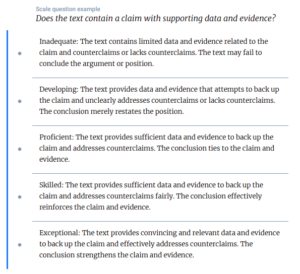 In Eduflow, you can modify the review and reflection questions asked as required for your course and learners, and we recommend using a peer feedback rubric to guide students through the evaluation process.
Peer feedback rubrics keep students on track as they review their peers' work. As a result, both students benefit: the reviewer engages more deeply with the work, and the reviewee gets a more constructive critique of their work.
More in-depth information and guidance on peer feedback rubrics can be found on the Eduflow website, including their 60-page guide to creating effective feedback rubrics.
Set Up Guides
For a run through of either of these tools before getting started, or to design a peer assessment pathway for your course – please book a one-to-one slot with one of our eLearning team.