Below you will find information on the benefits of peer assessment, and guidance on how to prepare for a peer assessment activity.
Peer assessment – why do it?
Having to assess your peer's work can be uncomfortable, but learning how to assess and give feedback to others involves important skills that will be an asset to you as you move through university, and into work and beyond.
If you are involved in group work and are assessing each group members contribution to the final output, anonymous peer assessment can ensure that final marks honestly reflect each person's input.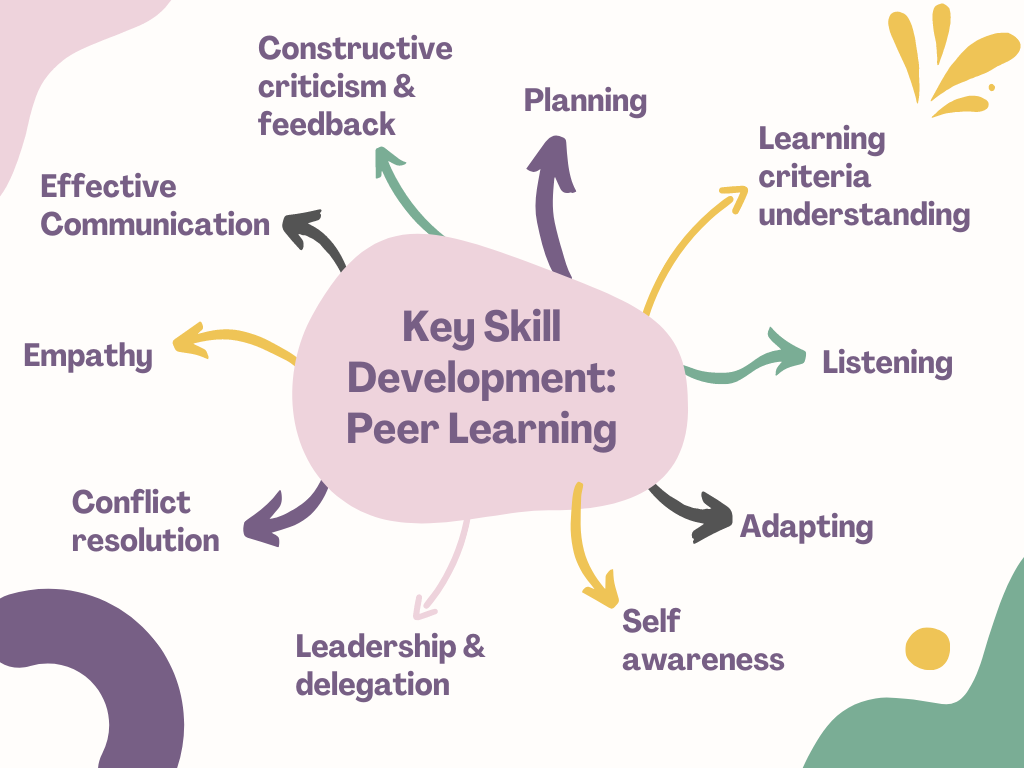 So, how do you do it?
Peer Scoring: If you are involved in a peer evaluation using Buddycheck or similar software, you will be provided with full instructions on how to complete your peer assessment task via your course leader or instructor. In an anonymous environment in which you are providing a numerical score on how each individual in a group performed, please try to be as objective and honest as possible – if there were personal conflicts or personality clashes, try not to let this influence how you score an individual's input into the work. Try your best to encourage all group members to participate in the group work and assessment, as non-contributing members can impact or delay final results.
Peer Review: When completing a peer review task using Eduflow or similar software, you will be providing feedback and constructive criticism on other students' work, and perhaps also reflecting on the feedback you receive. There are a few skills at play here:
Understanding the marking rubric or criteria well enough to pick up on areas that are lacking, or that have been covered well.
Communicating your assessment of the work in an understandable and constructive way.
Being able to receive constructive criticism/feedback and take lessons from it to further improve your work (reflection/self awareness).
Resources
Below are some resources that you may find useful to prepare for a peer assessment task:
What is Buddycheck ? 
Buddycheck is a peer scoring software with assistive qualitative and quantitative elements. The qualitative element of Buddycheck is based on the CATME framework developed by Purdue University. The quantitative element refers to the numerical peer scoring process which can potentially alter your individual group grade. Once you complete the peer scoring evaluation, the software produces an adjustment factor which is capped at +/- 20% of the group mark awarded by the academic. The adjustment factor value shows the contribution of a given student relative to other members of their team.
Following the completion of an evaluation, you will receive a personal report from the system which you should use to reflect on your individual and your group's performance. You should view the process and reports you receive as an opportunity to improve the team's performance and improve your skills in managing group dynamics and group conflict.
So, what exactly do you have to do? 
You will receive course-specific instructions before your evaluation begins, which will include a link to the Buddycheck evaluation via your Blackboard course space. Once you have opened Buddycheck, you will be asked to anonymously rate your team and its individual members from 1 (Strongly Disagree) to 5 (Strongly Agree) against several competencies depending on the course. Please be as objective and honest as you can during the evaluation.
Please note that all group members need to take part to make the most of any peer assessment. If one member does not take part, then the results of the evaluation will lose reliability.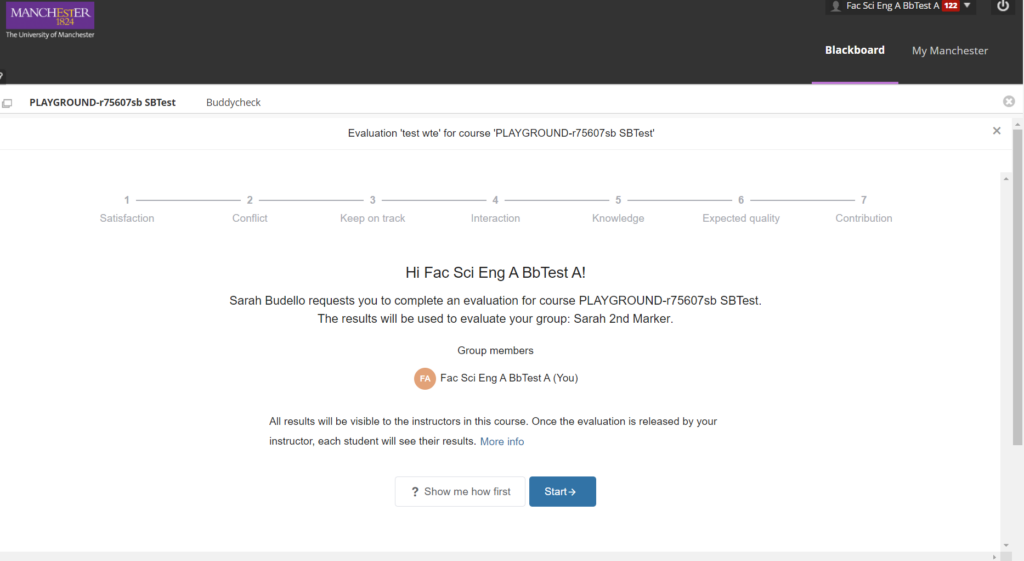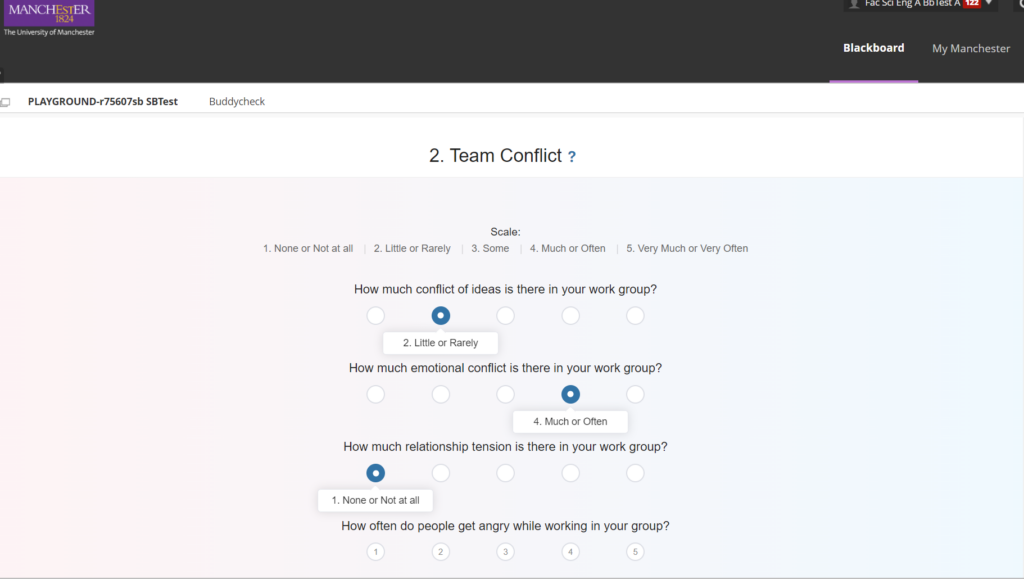 What is Eduflow?
Eduflow is a software that allows you to easily submit, review, provide feedback and reflect on your peer's work.
So, what exactly is it you have to do?
You will be provided course specific instructions for completing the Eduflow peer review, and before you get started you will receive an email from Eduflow saying you have been invited to complete a review. Please check your spam folder as these emails do seem to end up there, and add no-reply@eduflowmail.com to your safe senders list. Please follow the instructions in the email to access the course and to get started with your peer review.
After the initial email, you will be able to access Eduflow via your course unit on Blackboard. Simply login to the course space as usual and access the Eduflow link as instructed by your instructor.
In brief, you will be submitting your own work with a click of a few buttons, then once your peers have also submitted, you will be asked to anonymously review a number of pieces of work.
There may be a minimum number of words you need to write for each review.
Once the whole group have completed their reviews, you will then have access to feedback from your peers. You will have the chance to read the feedback, and there may be a reflection stage in which you write about how useful you found the feedback you received.
Please note that all group members need to take part in each stage (submission, review and reflection) for you to make the most of this peer assessment. If one member does not take part, then the others will not be able to move through the process and get access to feedback on their work.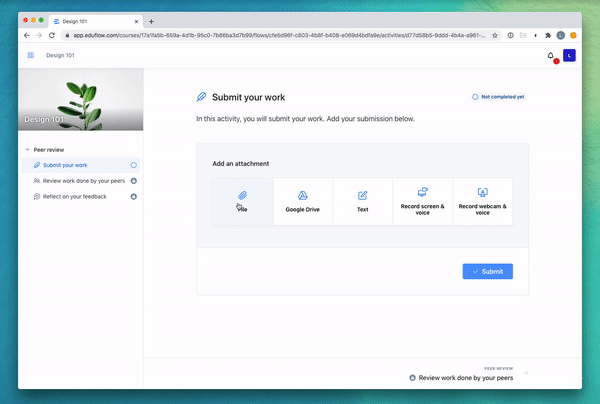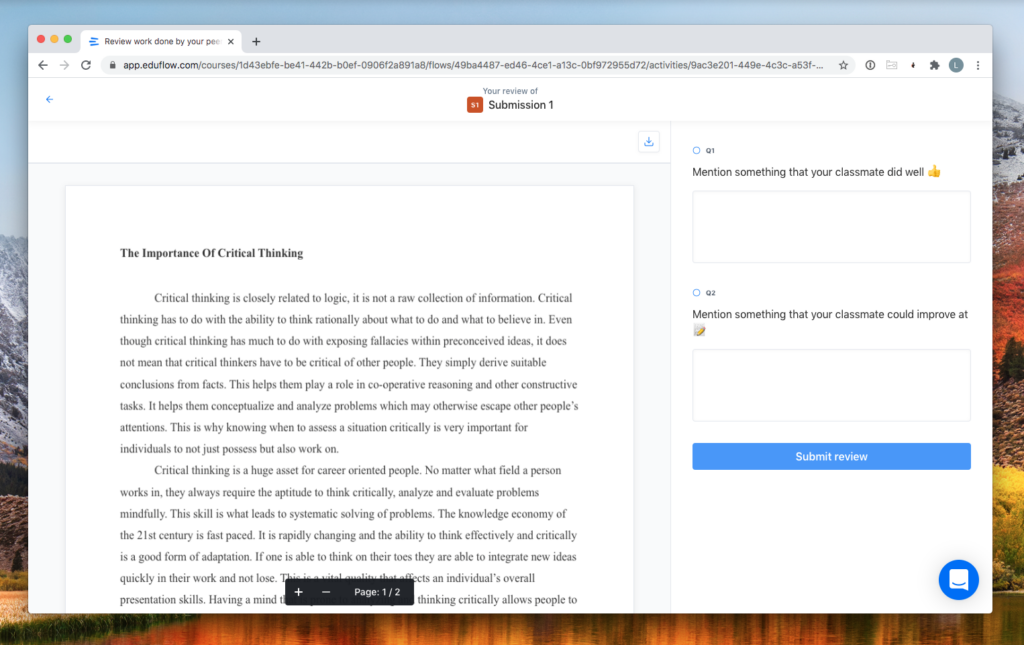 [Webpage] How to give constructive criticism
In this online guide, you will find some useful tips on how to give constructive criticism.
[Video] How to Give Constructive and Actionable Peer Feedback: Students to Students
The video animation below, produced by students for students at UCD Dublin, aims to help students improve the feedback that they give to their peers. It gives some ideas on how the feedback can be more constructive and actionable.