Buddycheck is a software which allows students who are completing group work to review and score the contributions of group members, based on a series of questions. Buddycheck was first introduced in FSE in 2022 as part of a small scale pilot.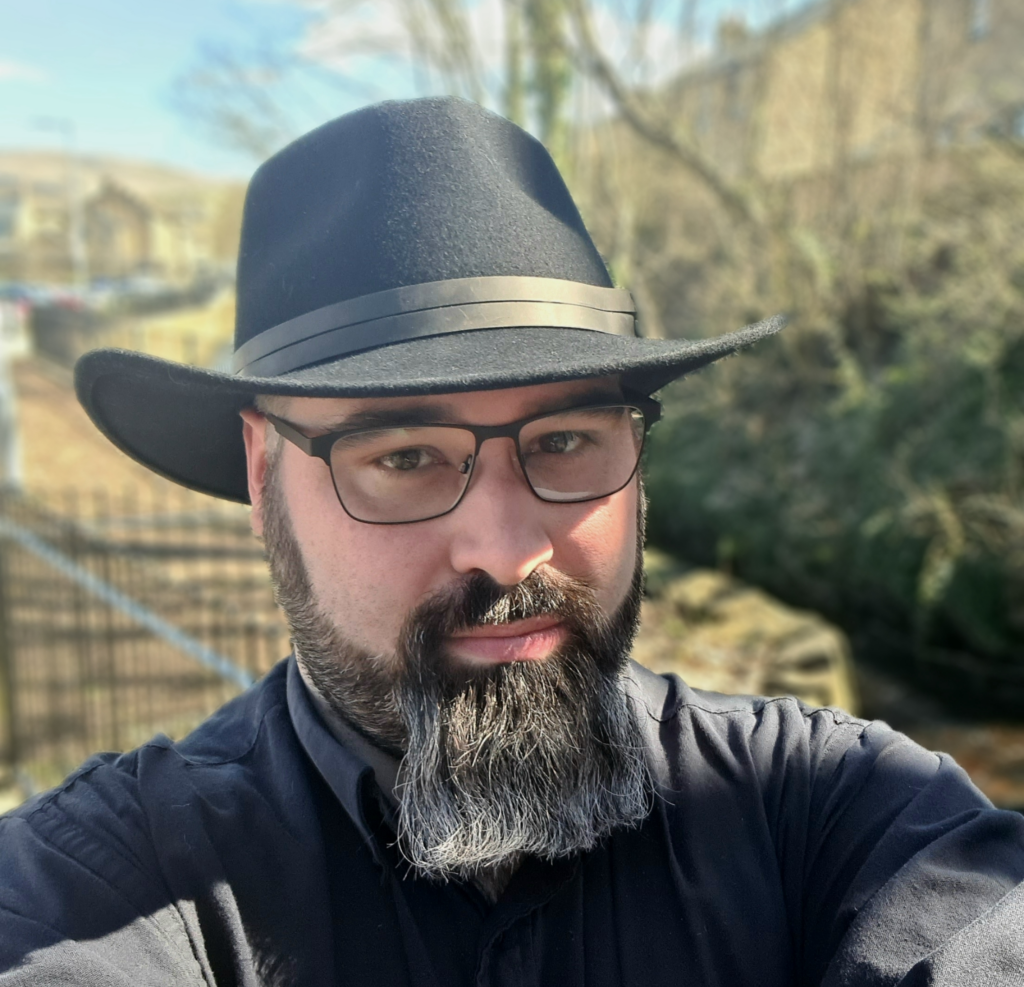 Teaching Academy caught up with Tom Rodgers, in Chemical Engineering to find out how he's been using Buddycheck and what benefits he's finding from using the software.
What teaching challenge does Buddycheck address for you?
When students work in groups it is known that often not everyone performs to the same level. This means that a single group mark is not always representative of all members of the group. If most of the group work is undertaken away from the class, then we can't prescribe individual efforts to students as we don't see their input. A number of methods can be used; however, one useful method is asking the group members to score the effort of their teammates through peer assessment.
With large classes an automated method of collecting these scores is required, otherwise it is a large amount of work to collate all of the information. Over the past number of years, I have used several systems to try to do this (including paper based). Buddycheck provides a system that is integrated into Blackboard, this means that a lot of the admin is automatically taken off. The groups are automatically recognised from Blackboard, students are automatically emailed reminders, students don't have to move to an external programme (as with other peer assessment software), and the results can be automatically emailed to the students.
How do you use Buddycheck?
I currently use Buddycheck on all three of my modules that have group assessments (each module around 100 students). Students are provided with a rubric on how they mark their teammates on different attributes of the teamworking process. The scores given by all their teammates are averaged and scaled to produce a multiplier to the group report for each student. After a number of trials, I have found that the best option seems to be converting the score to a scale of 0 to 1. This allows students to automatically award people who provide no contribution a 0 for the assessment. (An example of a Buddycheck rubric is shown below).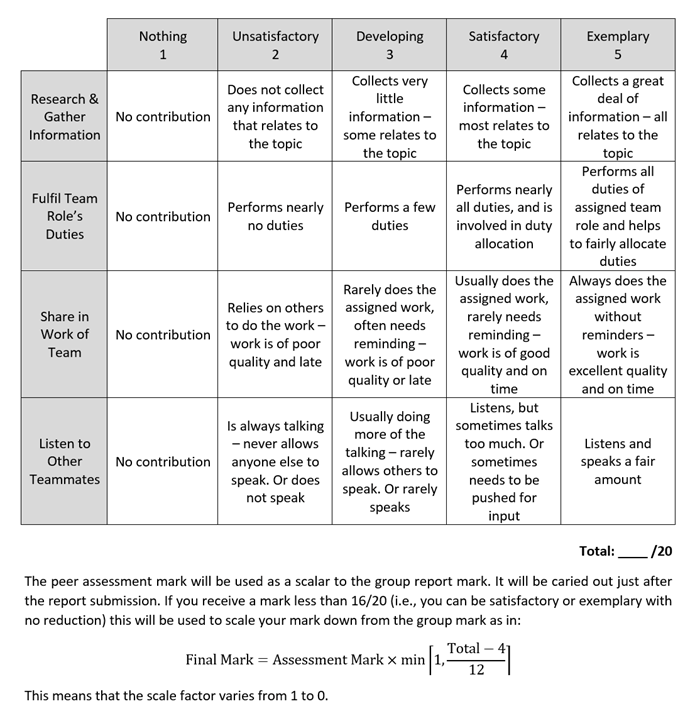 In Buddycheck, I can add the questions to allow the students to score their teammates, and also have a number of questions (automatically provided by Buddycheck) to get them to think about how they performed as a team (not scored). Buddycheck then allows me to export these scores to an excel sheet which contains the average already calculated and the comments written by the students.
Previously I would check the scores by calculating the reliability, but Buddycheck does this calculation for me. I also check the scores against the comments to make sure all looks good. After adjusting the scores as a scale factor, I multiply this by the group assessment mark, to get an individual mark for each student, I then bulk upload this scaled mark back to Blackboard.
As the input and output are all taken from Blackboard linking everything in excel is very easy, so it only takes about 5-10 minutes to undertake this whole process. I can then release the individual assessment mark to students via the Blackboard Grade Centre and can release the student comments about their teammates back to them through the Buddycheck system.
This has dramatically reduced the amount of time needed for this task.
What do your students think about Buddycheck?
Using peer assessment on group assignments has reduced the number of students who complain about poor teamwork in group assignments. This is due to the peer assessment acting as encouragement to join in with the group from the start, and also students know they can provide feedback to students based on their contribution at the end of the assignment.
Throughout the use of Buddycheck I have not had a student say that they could not find the link and the peer assessment activity has been completed by around 95% of all students on the modules.
Do you have any thoughts about the impact of Buddycheck in FSE / your department?
Buddycheck has also started to be used on our design projects, which are large group projects in the first and third years. This has reduced the time needed for peer assessment on these modules (both >200 students).
Peer assessment should be undertaken on all assignments that involve groups as this helps students assess individual contributions to the group work. General questions on the team performance also allow students to reflect on their own performance to help them, improve in their next assignment.
Find out more
Want to know more? Check out the following articles: