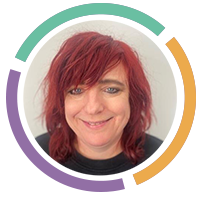 Sarah Hewitt is a Learning Technologist in the Faculty of Science and Engineering as well as the Faculty's GTA Lead. Upon becoming an alumni of the Leadership in Education Awards Programme (LEAP), Sarah took up the opportunity to become a LEAP assessor.
Sarah sat down with us to share her experiences as a LEAP assessor and to provide some insight into what makes a good Senior Fellow application.
When did you become a LEAP assessor and why did you decide to take it up?
I became a LEAP assessor after achieving Senior Fellowship of Advance HE. I really appreciated the support I was given when writing my portfolio and was happy to give some time back to the scheme. As well as assessing portfolios, I take part in LEAP assessment panels to discuss applications which are difficult to assess or applications where an outcome couldn't be agreed by two assessors. As an experienced lead assessor I am happy to share my opinions with others to help ensure that assessment is fair and accurate.
What do you enjoy about LEAP assessing?
I enjoy reading about others' achievements, especially those who work in other areas of the University with which I am unfamiliar. It reminds me how great it is to work at The University of Manchester and how many successful colleagues there are in different fields of expertise. The LEAP scheme celebrates success and achievement, and I enjoy being part of the process. The LEAP admin team are also great to work with.
In your opinion, what makes a good application?
A good application is well organised, with the descriptors listed clearly at the end of each example, with 3 varied case studies which clearly document interesting and successful projects.
What common mistakes do applicants make and how can they be avoided?
Quite often in applications for Senior Fellowship, Descriptor 3.7 isn't developed enough to explain either how the applicant influenced the case study or the impact of their influence. Sometimes an application can read as if it was rushed and opportunities are missed to include an example for one of the descriptors. The portfolio is so much easier to assess if it is well organised and clearly matches the descriptors to the various examples.
If an application doesn't quite meet the criteria, can the applicant expect to receive supportive and constructive feedback that will help them to improve next time around?
Yes, of course! If the application doesn't quite meet the criteria, the applicant can send a further 500 words to support one of their case studies. If the application requires more than a further 500 words of development, the applicant is given supportive and constructive feedback which can be used to improve the application next time around. They won't need to wait long as there are 3 or 4 submission deadlines per year.
And finally, can you share your 3 top tips for colleagues putting together their LEAP application?
Give yourself enough time to complete the portfolio, mapping document and reference gathering.
Ensure all descriptors are met and examples clearly referenced, so assessors don't miss opportunities to tick off a descriptor.
Use the LEAP mentor support. A mentor will support you with your application and proofread your first full draft.
Do you already have Fellowship (FHEA) and are looking to apply for Senior Fellowship (SFHEA)? Read our advice on transforming your Fellow application into a Senior Fellow application.