This information is aimed at academics and those involved in setting up online assignments in Blackboard and Turnitin. It provides an overview of how to choose the right rubric for your needs.
What are rubrics?
A rubric is a marking scheme that you can use online. A rubric displays evaluation criteria and shows your expectations for the quality of an assignment.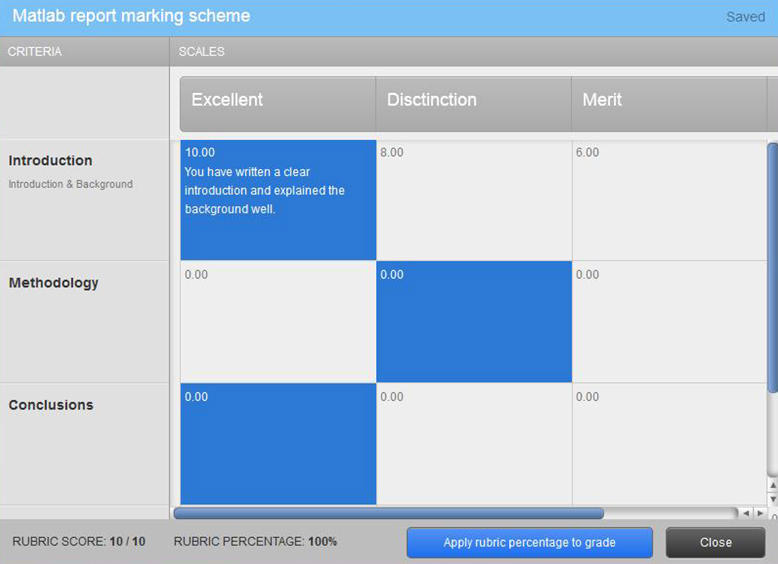 Why should I consider using rubrics?
Benefits for academics
Rubrics can reduce the time and administrative burden of marking assignments. Some academics have reported greater consistency across multiple markers when rubrics are used. You can also run evaluation reports to see, for example, the average total score, average scores for each criterion, and distribution of scores across each level of achievement.
Benefits for students
Students can use the rubric as a guide in preparing their assignment. The completed rubric shows students how they achieved their grade and helps them to readily identify where they need to improve in future.
Rubrics can be set up in either Blackboard or Turnitin – each works slightly differently and offers different functionality.
Rubrics in Turnitin
Turnitin assignments can have:
no rubric
a Turnitin rubric
a Blackboard rubric (added on the appropriate column in the grade centre)
By using a Turnitin rubric with a Turnitin assignment, you can mark scores on the rubric while adding QuickMark feedback to assignments.
Rubrics in Blackboard
Blackboard rubrics can either be associated to content (see list below),  or to columns in the Grade Centre (select Edit Column Information from the column's contextual menu).
Associated rubrics are visible under the grading and rubrics settings for:
assignments
essays, short answers, and file response test questions
blogs and journals
wikis
Discussion Board threads and forums
Should I use Blackboard or Turnitin rubrics?
Generally speaking, your choice will depend on what is most appropriate for your assessment and marking requirements:
| | | |
| --- | --- | --- |
| Feature | Turnitin rubric | Blackboard rubric |
| Group assignments | No | Yes |
| Markers can add tailored feedback to each possible score/criterion during marking | No | Yes |
| Compatible with marking by more than one academic | Yes(use Turnitin assignments by groups) | Yes(Yes, use Smart Views in the Grade Centre to help with this) |
| Option to export marked assignment with completed rubric | Yes(use download GradeMark Paper) | No* |
Use either Blackboard or Turnitin rubrics for:
Individual assignments
Setting an indefinite number of criteria and score ranges
Setting marks by points or percentage or no marks (feedback only)
Specifying feedback for each possible score/criterion in advance
Automatically adding up marks
Manually overriding marks if required
Re-use with future assessments
Exporting and importing rubrics (to allow sharing with others)
*Limitations
Blackboard rubrics cannot be printed by academics once completed – for example – for moderation purposes.   However, several Departments now use Blackboard's delegated online marking to moderate marked assignments.
If adding comments to a Blackboard rubric, remember to save your work often – it does not auto-save so will otherwise be lost in the event of a time-out or computer crash.
Further information

Use the correct settings in both Turnitin and Blackboard so that your students do not have access to the marks during the marking and moderation period. For advice, contact your eLearning Team via the support portal.
Make sure you follow the general guidelines about online assignments, particularly about anonymous marking.
For specific instructions on setting up rubrics, please see the help information from Blackboard and the Turnitin instructor guides, or the Knowledge base article Blackboard: Implementing assignment rubrics.