Assessment / Using Turnitin for Assignment Exams
How to use this Tool in the Current Exam Context
A Turnitin Assignment is an assessment tool that can be accessed within Blackboard. Turnitin Assignments in Blackboard allow students to submit a piece of word-processed work such as a Word document, online within a defined timeframe and allow instructors to access and mark their submitted work. Turnitin provides a text-matching/plagiarism detection service.
When To Use Turnitin Assignments for Exams?
Turnitin is the preferred option for text based word processed assignments because of its text-matching/plagiarism detection service. Do not use Turnitin for a handwritten or drawn exams use Blackboard Assignments instead.
Phase 1: Creating an Exam Content Folder
Turnitin does not allow you to attach Exam material such as a word documents or PDF to an assignment, so you must upload the Exam document separately, in order to make it available to your students. We recommend that you create an Exam folder which contains both the exam material and the Turnitin Assignment, so it is easy for students to find and identify.
To create an Exam Content area:
After logging into Blackboard, navigate to the Course page where you want the Exam folder to appear and switch on Edit Mode. This toggle can be found in the top right-hand corner.
Select Build Content > Content Folder

On the Create Content Folder page fill in the following settings:
CONTENT FOLDER INFORMATION
Name
Follow this format: Exam Unit Code, Semester 1, Exam date and Start time
E.g. Exam MACE006, Semester 1, 12/11/2020, 9am
Instructions
Copy and paste the exam instructions here.
STANDARD OPTIONS
For all students in these exams there is an extra 1 hour period for upload of their exam document.
Display After
Select the date and time that this exam will be available to Students by using the date and time area or by clicking the calendar icon and selecting the date and time.
Display Until
Click the Display Until check box to stop displaying the link at the end of the exam. This is when the students will no longer be able to access the Exam Content folder.
Select Submit to create the content folder.
Phase 2: Adding an Exam Document to the Exam Content Folder
Enter the Exams content folder you created in the previous step, select Build Content > File.
On the Create File page:
Select a local file by clicking Browse Local Files or one from within Course Files by clicking Browse Course Files. Fill in the following settings:
Name
Give the Exam Material document the same naming information as the exam (Unit code, semester, date, start time), but append with Exam Paper make it clear that this is the exam paper to the student.

Display After & Display Until
Set these to the same as you did for the Exam content folder in the previous step.
Select Submit to upload the file and create a link to the file in the Exam Content folder.
Phase 3: Adding a Turnitin Assignment to the Exam Content Folder
To add an assignment select Assessment > Turnitin Assignment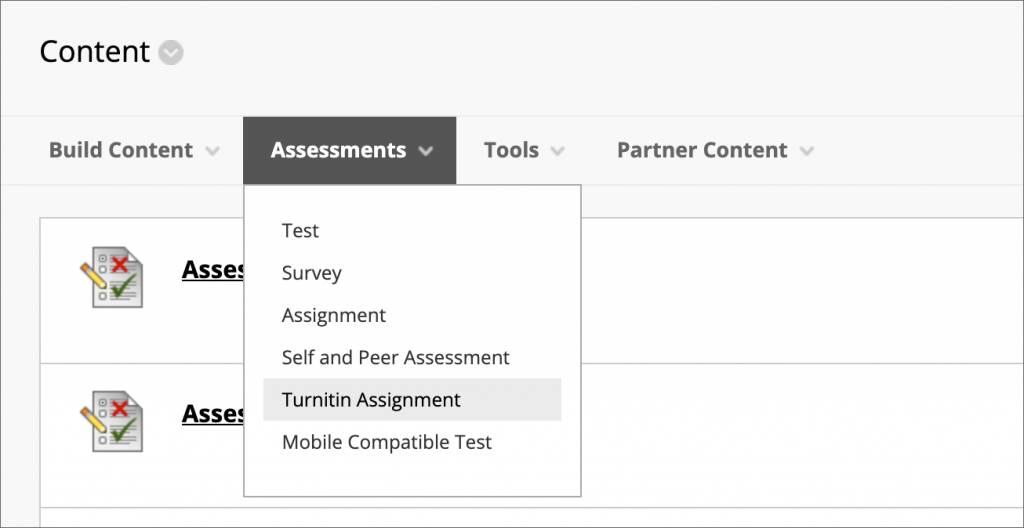 Phase 4: Turnitin Assignment Settings
On the Turnitin Assignment Page you will first be prompted to select type of assignment.
For all exams you should leave this on the default of Paper Assignment.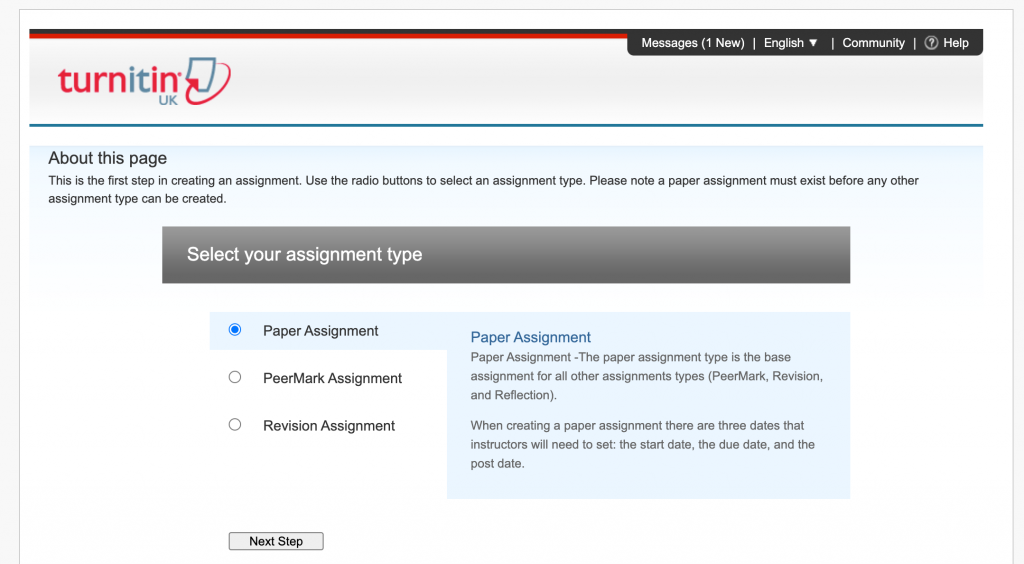 On the Add Turnitin Assignment Page pay careful attention to the following settings:
Assignment Title: Clearly name your exam materials. We recommend you include the unit code, the semester, the date and time to ensure that students can easily identify the exam link.
Point Value: It is recommended that this be set to 100 points for simplicity and any weightings or adjustments can be made later when you are processing final grades in the Grade Centre.
Allow only file types that Turnitin can check for similarity (checkbox) leave this as yes. If you intend to allow your students to upload a PDF file please read this document in advance: Exams and PDF Files
Start Date: Set the assignment to open at the start of the scheduled exam.
End Date: This is when the students will no longer be able to access/submit their answers. For all students in these exams there is an extra 1 hour upload of their exam document.
Late penalties should be applied to any student who submits after the End date and does not have a verified DASS plan allocating them extra time. Note: by default turnitin assignments do not allow late submissions you must check the Allow submissions after due date in the Optional Settings section to allow students with additional needs (as identified by DASS plan) the ability to have extra time. You should notify  all students that you will be able to see the timestamp for when they submitted.
Post Date: This must be set, so it is suggested to set it around the time students might receive results, i.e. well into the future. Even if students are not to get feedback, this date still needs to be entered into the system.
After those settings are completed, expand the Optional Settings section, as some of these need to be amended for the purpose of exam arrangement.

Optional Settings
Enter special instructions: Note this area can only contain 1000 characters
Allow submissions after the due date: Yes
All submissions have a submitted date recorded so you can easily identify when a submission was made; late submissions appear in red. This setting also gives you the flexibility to accept submissions from students who require an extended deadline. Appropriate penalties can be applied to unauthorised late submissions.

Similarity Report
Generate Similarity Reports for student submission: Generate reports immediately (students can resubmit until due date)
Allow students to view Similarity Reports: No
Exclude bibliographic materials: This depends on your requirements for an exam answer.
Exclude quoted materials: This will depend on your assessment
Exclude small sources: Probably not applicable, but is your choice.
Reveal grades only on post date: No
Enable anonymous marking: If you wish to use anonymous marking, ask students not to include their name or ID number in their submission, and enable this setting. This will require careful consideration if multiple people are involved in grading and if you are planning on downloading and marking outside of Turnitin/Blackboard.
Online Marking
Attach a rubric: Not necessary, but useful. Note that, Turnitin's rubrics are separate to those you may have produced for standard Blackboard Assignments. More about rubrics.
Additional settings
Save these settings for future use: Not necessary
Phase 5 -Hiding the Marks from Students
The final stage of creating an online exam, is to add specific measures to ensure that Marks from your test are not released to students before you intend them to be.
More on Hiding the Test Column in Grade Centre
More Turnitin Resources
We have several more detailed guides available to help you set up a Turnitin assignment, mark submissions, and give feedback to your students.  The main ones are below:
Turnitin Originality Checking and Online Marking with Feedback Studio
Offline Marking with the Turnitin App for iPad
Turnitin – Managing Submissions
How to Set Up an Open-Book Exam using Turnitin
Turnitin's own help pages contain a library of rubrics and grading forms which may give you some ideas for your own.