Bespoke 1-to-1 training sessions can be booked here.
These training sessions can be structured around your requirements, whether you need a basic overview of Blackboard, a practice session with a particular elearning tool or would like some help and advice on a specific issue in your teaching which you'd like to solve with technology-enhanced learning.
We also intend to run regular online training sessions on such topics as:
Blackboard content management
Turnitin
Online assignment marking and e-assessments
Using video to enhance teaching
Classroom Response Systems
Interpreting originality reports
We are reviewing our training sessions at the moment, but soon you will be able to visit the University's Staff Learning & Development online Training Catalogue and search for our courses – they all begin with FSEELT (you will be required to log in using your University username and password).
The training sessions and courses listed above will be designed to cover our agreed priorities within the Faculty, of which a major part is the organisation of staff training and development in all aspects of eLearning. We have five areas of development: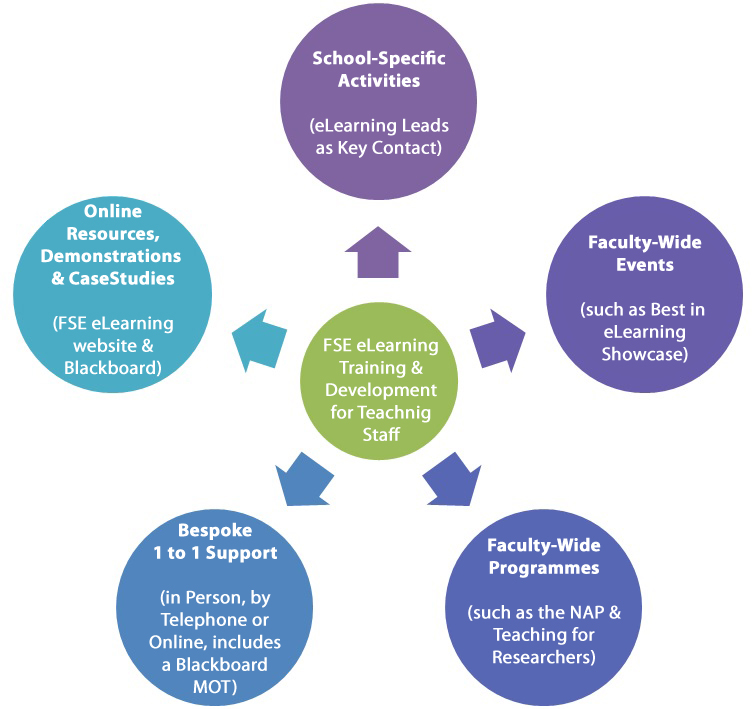 1. School-specific training and/or development activities
2. Faculty-wide training and/or development events (such as a Best in eLearning Showcase)
3. Bespoke 1-to-1 support (in person, by phone or online – includes Blackboard MOTs).
4. Online resources, case studies, demonstrations, etc, (the FSE eLearning website and Blackboard spaces).
5. Faculty-wide training and development programmes, including the New Academics Programme (NAP) and Teaching for Researchers.
If you have any other specific training needs, please get in touch with us with your requirements. We will be happy to discuss them with you and come up with a bespoke solution.