What does Gradescope do?
Gradescope enables electronic submission and marking of:
handwritten work
typed responses
formulae and diagrams
programming/code
multiple choice answers
Gradescope can be added to any Blackboard course area. Most Gradescope assignments are accessed through the Gradescope dashboard by both staff and students. Grades and feedback can be published within the Gradescope. Overall grades can also be pushed out to an associated column in the Blackboard Grade Centre.
Gradescope offers several different assignment types:
Homework/Problemset (which allows students to submit multiple pages or images in response to an assessment task).
Exam/Quiz (a worksheet style assessment, where staff create a question and answer template).
Bubble Sheet (used for paper based multiple choice questions which are then scanned and marked online).
Programming (for assignments using programming or code).
Online Beta assignment ( lets you create questions directly on Gradescope. Students will be able to log in and submit responses within the Gradescope interface)
The workflow that you follow within Gradescope can vary depending on:
Your chosen assignment type and the settings you select.
Whether the responses will be student uploaded or instructor uploaded.
Find out information the different assignment types via the Gradescope website.
Below are some are some of the potential advantages and disadvantages of using Gradescope and a quick insight into the workflow. You can find details of accessibility standards via the Gradescope website. You can also contact the e-Learning team for advice or book a support session via this link.
Dynamic rubrics: The rubric can be created as part of the grading process, and is therefore more flexible than Blackboard and Turnitin.

Note:

Rubrics are shared across all submissions.  So bear in mind that if you edit a rubric after grading has begun, you may need to revisit work already graded to ensure rubric statements have been applied consistently.
Reuse of markers comments: Feedback comments that are added to submissions can be saved and reused on subsequent submissions, where the same error is made. You can use the provided tools to highlight or circle parts of the submitted work to show exactly where an error occurred, as well as write or type comments directly on the assignment. Reusing these comments could be huge timesaver.
Grade by question rather than student: Gradescope presents student work by question rather than by student. This means you can grade one (or more) question(s) across the entire cohort instead of all answers of a subset of students. This is likely to increase consistency and will make moderation simpler.
Systematic tracking of grading progress: If for example, a teaching assistant is confused about how to mark several papers - the ungraded responses will be flagged by Gradescope and you will not have to search for them.
Detailed analysis: Gradescope tracks which students actually look at the feedback given on an assignment, so potentially you could use this to follow up with students who are not doing so. Gradescope also provides a detailed item analysis of each question, so you can identify areas where students are collectively struggling and respond in lecture material. 

Regrade requests: When setting up your assignments you can  enable regrade requests. Allowing students to describe the error and notify you if they believe there is an error in the grading.
Duplicate assignment: If you have already used the assignment
in a previous semester, you can copy over the assignment and all of the details into the new semester course and then make any changes you want. Compared to Blackboard's process of import and export this is time saver over time.
Programming assignments: Gradescope can compile various types of code and can auto grade code based on whether it compiles or not.
AI auto grading or partial auto grading: is available for Programming and fixed template assignments (see Gradescope AI-Assisted Grading).  Bubble sheet assignments can be used for paper based multiple choice exams.  Gradescope uses AI to group and grade student responses.
Online Assessment Tool: The Bubble Sheet assignment makes creating multiple choice assessments much quicker than Blackboard because there is only one dynamic form that all assessment questions are managed from, rather than managing question individually, as in Blackboard. This does have the downside that you cannot currently randomise or reuse multiple choice questions.
Tools to prevent cheating: Gradescope has various strategies available to prevent cheating, see: Gradescope Help Centre - Preventing Cheating.
Time cost: There is an initial time cost in setting everything up in Gradescope and learning how to use this platform, as well as instructing students on how to use it.
A separate interface: Both staff and students must access Gradescope's Dashboard (via a link in the Blackboard Course) to access Gradescope assignments. (Except Bubble Sheets - when used for paper based exams).
Double manual creation: In order for Gradescope to post grades to Blackboard, staff must create and link to a corresponding column in the Blackboard Grade centre.
Feedback:  Staff need to 'publish grades' in Gradescope for students to view full feedback (rubrics applied, comments, points) and also 'post grades' to Blackboard to push the overall mark to the Blackboard Grade centre.
Blackboards groups are not integrated with Gradescope: Which means that previously created marking groups cannot be transferred to Gradescope. It is possible to setup subsets of students in Gradescope, referred to as sections of students.
AI and assignment limitations: to receive the full benefit from Gradescope's AI, assignments must be constructed with a template. If student submissions do not match the layout of the original instructor template, the AI may fail.  (Gradescope AI-Assisted Grading).
Below is an overview of the different stages involved in setting up a Homework/Problemset assignment, to give you an indication of workflow from start to finish.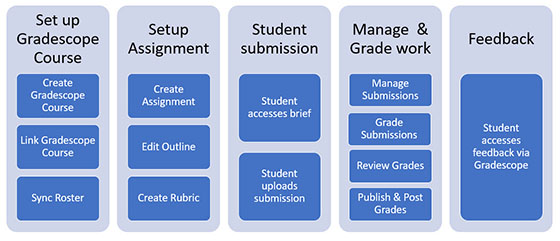 Resources
For further information check out the guidance in the pages below:
Case Study
FSE Teaching Academy would love to hear from any colleague using Gradescope within their teaching. Email: fseteachingcollege@manchester.ac.uk