Introduction
Classroom response systems (CRS) are software packages that enable students to answer questions and get feedback during a class using mobile devices or clickers.

What is this? What problems does this solve?
Students answer questions that are displayed on the screen. They then see the correct answer and a bar chart with the number of responses to each possible answer.
Classroom response systems provide several advantages over simply asking students questions and waiting for individuals to answer.
CRS are anonymous (or students use nicknames) and this encourages all students to take part. Students without devices can still answer the questions.
Students can see whether they have answered a question correctly and also how many other students answered correctly.
The lecturer gets feedback on what students have learned during the session.
Some systems have a competitive element which encourages students to engage with the course material.
CRS can be even more effective if used together with peer learning. Students can be asked to answer a question individually and then given some time to discuss their answer with a peer. They then answer the question again. This method of peer instruction was pioneered by Eric Mazur (Video: Eric Mazur – Peer Instruction) and has been shown to improve student engagement and outcomes.
Another way to use Classroom Response Systems could be to ask students a series of questions relevant to a topic at the start of a lecture, deliver a lecture on that topic and then repeat the questions at the end of the lecture. Hopefully, you and your students will be able to see that learning has taken place, if not, you should be able to identfy areas that require further clarification. Students will be able to measure performance against their previous attempt. This form of assessment where students are comparing themseleves against their own previous performance is known as Ipsative feedback.
What software should you use
There are several packages available that are quick and easy to use, such as Kahoot, Mentimeter and Turningpoint.
Here is a very brief overview of the differences of each software…
Kahoot – Kahoot is free and very simple to use. You are limited to using MCQ type questions, points are awarded for quick correct responses and a leaderboard is presented creating a competitive element to the quiz. Some people may find the music used in Kahoot distracting.
Mentimeter – Has a broader range of Question types – including free text responses, word cloud, scales and ranking questions. Like Kahoot Mentimeter is simple to use and free, although the free option gives you a limited number of Quizzes and Questions per quiz. You can pay a subscription fee to increase the number of presentations and questions per presentation.
Turning Point – The University has a site license to use Turning Point. To gain access to the license you will need to contact your faculty eLearning team. Turning Point integrates into powerpoint so you can embed your questions into your lecture slides. Reports can be easily generated so you can analyse student responses after your session.

Nearpod: Requires more substantial network bandwidth that the others: shows the presentation with embedded questions on every connected device. Some very creative question types, and a very rich way of sharing some information with the class"
Mentimeter, Kahoot and turning Point – Question Types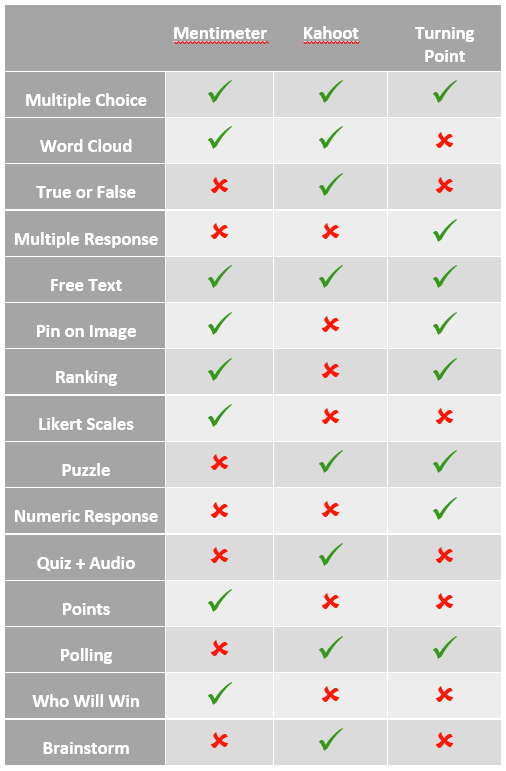 Licences
Kahoot offers various difference licencing options, including a free version, albeit with limited functionality. For further information please click here.
Mentimeter offers various difference licencing options, including a free version, albeit with limited functionality. For further information please click here.
Turning Point is already licenced for use at the University of Manchester. To submit a licence request please click here.
Where can I learn more?
Videos and How to Guides:
How to create a Kahoot! Quiz:
How to create an mbclick quiz:
How to create a Mentimeter quiz:
If you want to know more then contact the Faculty elearning team or talk to your Department Teaching and Learning Enhancement
Benefits – Who benefits? How much? Why is it good?
Quizzes are easy to write and can be embedded within a presentation to be used at any time during a class.
Students get instant feedback and can see how they compare to their peers.
Staff can see which parts of the class students have not understood and can provide feedback during the class.
Things to look out for (caveats & warnings)
The different packages have pros and cons and so it's worth experimenting to see which one suits your style of delivery. Talk to colleagues who have used a particular package about how they use it effectively in their teaching.