Innovation and invention is key to being able to support our students while working at home. One particular problem is how to re-create the experience of using a visualiser within a lecture or tutorial session. Simiple USB visualisers are available to buy online, but you can create a visualiser using your own mobile phone at zero cost. We have investigated some solutions for this and have produced the following support guides.
Solution #1 – Using a second Collaborate guest user for the visualiser camera feed
Required device
: Any (Apple or Android)
Advantages
:
    •    Platform independent;
    •    simple to setup;
    •    will support low-spec phones;
    •    can use your phone microphone located on your visualiser.
Disadvantages
:
    •    Video feed is more compressed and of a
lower quality
than other solutions;
    •    little or no control over camera settings.
Support guide
:
How to build a homemade visualiser using a Collaborate guest user
Sample output: 
Image
Solution #2 – Using IP Webcam (for Android) and Collaborate application sharing
Required device
: Android phones only of a good or high specification.
Advantages
:
    •    Produces
best quality
video feed that can be acheived;
    •    excellent control over camera settings to refine visualiser view.
Disadvantages
:
    •    Very low spec phones may overheat and shutdown;
    •    slightly more technical setup required;
    •    a separate microphone may be required.
Support guide
:
How to build a homemade visualiser using IP Webcam for Android
Sample output: 
Image
There are many other possible solutions to creating your own visualiser setup.  Using the Android app DroidCam with its companion desktop client (for WIndows or Linux) is a popular choice as this allows you to select your mobile phone camera feed as the video source for Collaborate, Zoom, Skype or any video conferencing software. However we found you have less control over your camera than with the IP Webcam app.  Generally speaking solutions that involve the screen/application sharing feature in Blackboard Collaborate will lead to higher quality visualiser images as Blackboard compresses this video feed less than the standard share video feature.
We are particularly interested in hearing from any iOS (Apple) users who have found free apps to build their own mobile phone visualisers.
Your DIY visualiser builds
Staff from across the Faculty have shared details of their own home builds of DIY visualiser setups. Disclaimer: Some of these home builds may be unergonomic and possibly even unsafe! We welcome your creativity, but also encourage all home workers to ensure they have a safe working environment as much as is possible.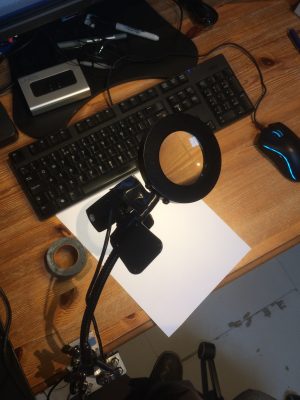 John Broderick from MACE has conjured this set up using a webcam, some gaffa tape, and a soldering helping hands lamp.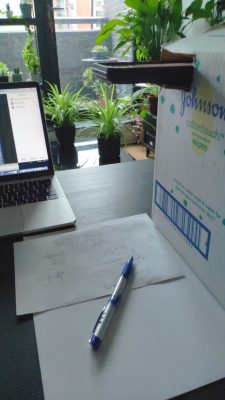 Joaquin Carrasco from EEE has also come up with a similarly inventive approach to a homemade visualiser. It's a mobile phone stuck with cardboard and duct tape to a box, facing down at a piece of paper. The mobile phone is connected to zoom (with sound muted). He also has his laptop webcam so the students can see him.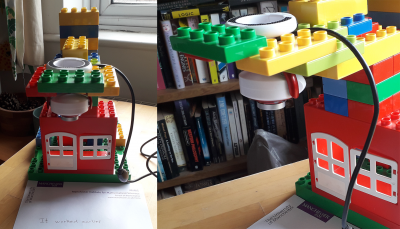 The most colourful example so far comes from Gareth Jones in the Department of Mathematics. This detached Duplo bungalow comes with a veranda at the front and spacious garden to the rear, it really is a thing of beauty…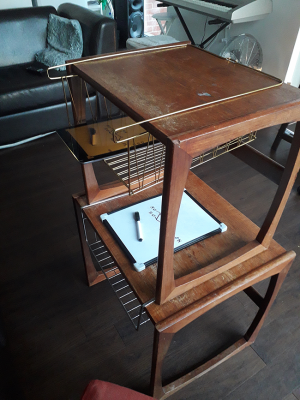 Nick Weise from Chemistry has opted for an iPad suspended from a wire basket, stacked coffee tables and a mini whiteboard.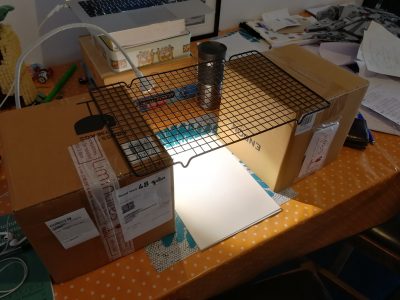 Sean Colman from Maths has sought inspiration from kitchen implements.  "I used a cooling rack from my kitchen and some boxes. The phone would be sitting on top (but I had to use the phone to take a picture). Also note Lego Yoda and the Millenium Falcon in background to confirm my nerd cred."
Let use know about your home builds…
If you have been inspired to invent something to support your online teaching, please share it with us.
Online Teaching – Creating a DIY Online Visualiser