The FSE eLearning Team has an agreed set of priorities within the Faculty, of which a major part is the organisation of staff training and development in all aspects of eLearning.  We have five areas of development :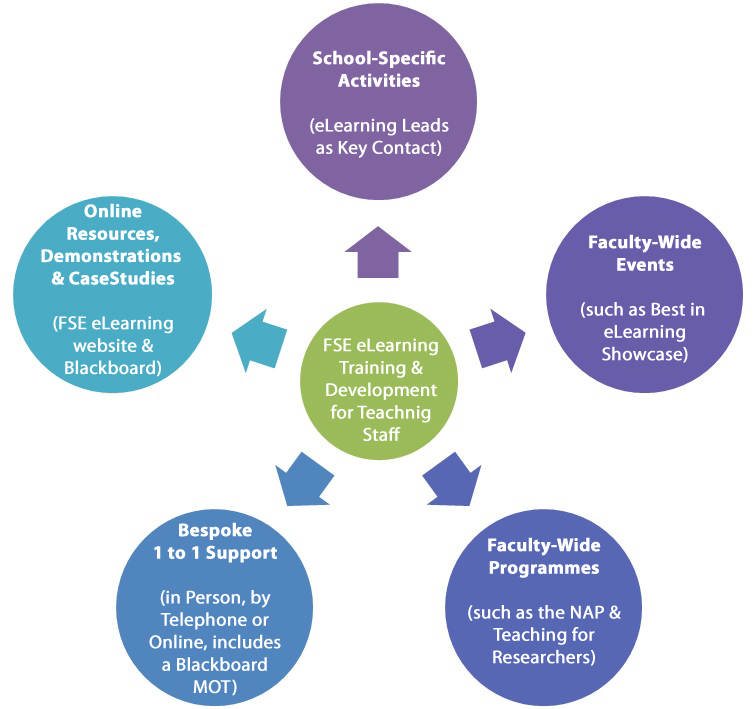 1. School-specific training and/or development activities
2. Faculty-wide training and/or development events (such as a Best in eLearning Showcase)
3. Bespoke 1-to-1 support (in person, by phone or online – includes Blackboard MOTs).
4. Online resources, case studies, demonstrations, etc, (the FSE eLearning website and Blackboard spaces).
5. Faculty-wide training and development programmes, including the New Academics Programme (NAP) and Teaching for Researchers.
Bespoke 1-to-1 training sessions can be booked using our webpage, here. For details of more generic training sessions on such topics as Blackboard basics, Turnitin, online assignment marking and e-assessments, please visit the University's Staff Learning & Development online Training Catalogue and search for our courses – they all begin with EPSELT (you will be required to log in using your University username and password).