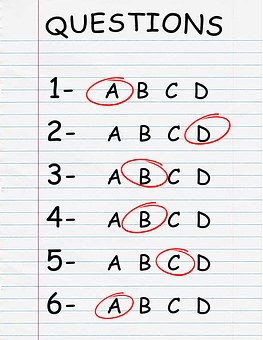 You can create a new Blackboard test or repurpose an existing one to provide an assessment with formative feedback to your students.  Tests consisting entirely of multiple choice, true/false, matching, and other automatically marked questions can give your students instant feedback, but you do need to ensure that you have tailored the feedback for each question to provide appropriate guidance for both correct and incorrect answers. More information on Blackboard tests can be found here.
Short answer or essay questions in tests will have to be marked manually. This is useful if you have the time to enter personalised feedback for each student's answers.
A detailed guide to tests is available on Blackboard's own help pages, here: Tests, Pools and Surveys. The University has produced a more detailed guide on tests, providing recommendations and background information on question types and testing options which should be used or avoided.  The main difference for a formative assessment is that you need to update the Question Settings so that each question has a default point value of zero, and that you can provide feedback for individual answers.
It is very important that you consider the feedback you give for correct answers as carefully as for wrong answers; ensure your students know why the answer is correct, and where you covered the topic in your course.
To repurpose an existing test in the same Blackboard course, make a copy of it to preserve the original test.
In your Blackboard course, go to Control Panel > Course Tools> Tests, Surveys and Pools > Tests
You will see a list of tests in your course. Select the one that you want to use, and click on the action menu to the right of the title. Select Copy. The name of the copied test will be the same as the original, with a number in brackets after it, e.g. Biomaterials introduction (1). It will also show No in the Deployed column. Click on the action menu to the right of the new title, and select Edit.You can now edit the test by removing the point values for each question, and adding extra feedback if necessary.
To repurpose an existing test in a different Blackboard course, export it from the original course and import it into your current course. Blackboard's own help  pages have detailed instructions on exporting/importing tests between courses.  You can then edit the imported test to remove the point values and update the feedback, as above.
The Faculty has produced guidance on the approved methods of formative assessment which can be put in place – for more information click here: 2020 semester 2 formative assessment
Marking and assessment online – Blackboard tests for formative feedback