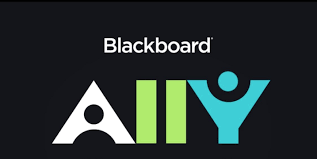 You may recently have spotted a coloured indicator next to your uploaded files in Blackboard.  This is a new service which is available in all Blackboard course units to check how accessible your documents are to students with visual or other impairments.
The new accessibility checking tool, Ally, is available in Blackboard for all 2017-18 and 2018-19 units as well as all organisation spaces.
Staff and students can now see an additional option button on the right of each uploaded file, allowing them to access alternative formats which they may find easier to read.
Ally automatically performs an accessibility check on all files uploaded to Blackboard.  Staff will see a coloured indicator on each file which gives a brief report on any accessibility issues found. These indicators are not visible to students.
As a course leader, is there anything you need to do?
If Ally detects accessibility issues it will suggest changes to enhance the accessibility of your teaching materials. You can choose to approve such changes or return to the issues identified at a later stage to make improvements.
Further queries?
If you have any queries or require further support, please contact your eLearning team via the Support Portal
A new Ally in achieving wider accessibility