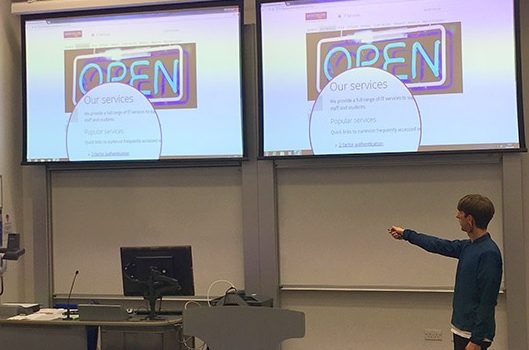 Would you like to improve the accessibility of your lectures?    In a trial funded by the Disability Advisory and Support Service (DASS), the IT Support Centre is currently trialling Logitech virtual pointing devices, which can help to improve student learning by highlighting, magnifying, or pinpointing areas of focus on presentation slides.  This may help to improve the use of large teaching spaces for students who have sight issues. The actions of the virtual pointers are recorded along with the presentation as part of the University's lecture capture system.
These devices are available free of charge from IT Services for the trial, provided you meet the following criteria:
You lecture on a course for students enrolled at the University.
You are happy for us to contact yourself and students on your course(s) as part of a feedback survey in December 2018.
You teach using your own laptop (Windows or Mac) or the teaching desktop PCs.
All teaching spaces are already equipped with the necessary software and drivers for the pointers to work – you simply plug a receiver into a USB port in the computer or laptop, and after a few seconds the pointer will connect.
Interested?
If you would like to give these new pointers a try, contact the IT Support Centre to reserve one. You can then collect it from the walk-up support desk in Kilburn Building.
Get in touch with the IT Support Centre at this link:
You can also read more about the pointers and how they work on the Logitech website:
Spotlight on improving presentations