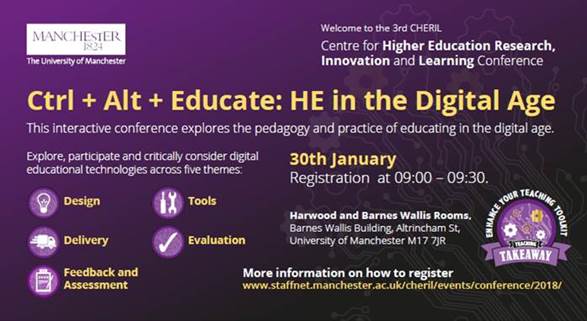 Audience: All staff who are interested in developing their teaching through the use of technology and for staff who are interested in learning more about CHERIL and the process of submitting a bid for funding for 2018.
Date: 30th January 2018
Purpose: Interactive set of sessions using a multi-team approach with a mix of the following:
Five zones – Design, Delivery, Assessment and Feedback, Tools and Evaluation with stalls from all three Faculty elearning Teams, University of Manchester Worldwide, The Library, CHERIL and Staff Learning and Development.
Keynote speaker Tony Sheehan, Associate Dean, Digital Learning, London Business School).  Tony is responsible for the development, delivery and continuous improvement of a School-wide digital learning strategy. He has a particular interest in the design of effective learning in an age of information overload, and actively researches, teaches, facilitates and coaches in areas of knowledge management, technology strategy, e-Learning, ed-tech, social media, and innovation.
Four interactive Workshops on Design, Delivery, Assessment and Tools
CHERIL Stall which will outline the  2018 bid process and showcase some of the projects.
PechaKucha presentations by CHERIL project owners
Interactive posters on technology enhanced learning
The conference is designed so delegates can take something practical away to explore in their teaching.  You can sign up to a workshop or a presentation or just come along and take away some practical examples of technology enhanced learning.
Further information
If you need anything further on the conference. please email the CHERIL in box cheril@manchester.ac.uk
Ctrl+Alt+Educate: HE in the Digital Age