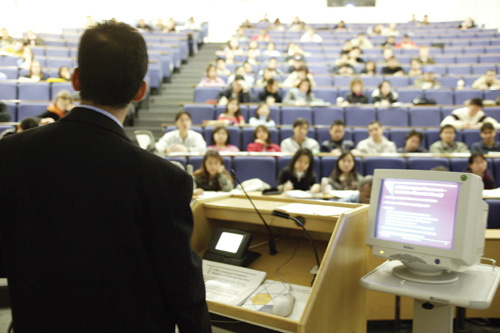 The University's lecture capture system has been undergoing some improvements, and new features are currently being tested or have already been rolled out. For more information on any of these new features or to enquire about any aspect of the lecture capture system, please refer to the help pages at www.mypodcasts.manchester.ac.uk
"On Air" light
If you are in Renold or Roscoe buildings, you may find an "On Air" light in your lecture room. For more information about this trial, click here: www.mypodcasts.manchester.ac.uk/pilot-air-lights/
Auto-tracking cameras
These are now being installed in over 30 locations across campus.  They are due to be fully implemented by the start of Semester 2, but some are already live and able to be used. For a list of locations with auto-tracking cameras, please click here: www.mypodcasts.manchester.ac.uk/locations/
Booking a camera recording
If you have an event scheduled in a camera enabled location, you can book it and the use of cameras using our ad hoc scheduling tool, just remember they are considered experiment.
http://www.mypodcasts.manchester.ac.uk/booking/
Recording outside of lecture theatres
A limited number of locations where no lectures are given now have lecture capture technology installed. These include labs, medical simulation facilities and cultural institutions. You can see an example of this kind of thing at the link, here.
Updates to the lecture capture system