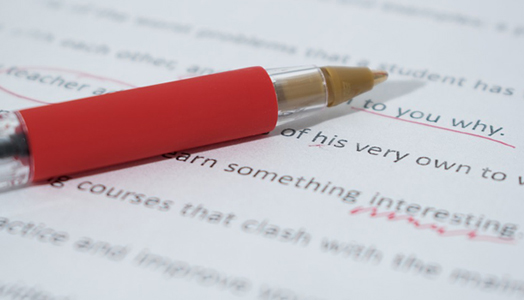 Blackboard's inline assignment marking tool is getting an update.  The previous assignment viewer, Crocodoc, is being replaced with Box View. Below is a summary of the most notable changes, and what you should plan to do about it.
What is Box View?
Box View is the name of the new coursework annotation and marking tool in Blackboard.
What is happening?
The upcoming maintenance period in early December is related to our move to Box View, but you will not immediately see any changes.
Blackboard Assignments will formally switch to using Box View during a short maintenance period on DATE AND TIME HERE, after which you will see the new Box View inline marking interface.
What about Turnitin/Grademark?
This upgrade concerns Blackboard's own Assignment submission and marking tool and does not affect Turnitin or Feedback Studio.
What is new in this upgrade?
Box View will bring some changes to the Blackboard assignment tool:
The new document viewer and online marking interface will provide markers with the ability to preview a larger range of submitted file types and will resolve known issues with the rendering of some documents;
The new document viewer and online marking interface will not immediately support "free hand drawing"- only comments and highlighting;
The update will provide a number of bug fixes.
What are the key dates?
Downtime: From 3.00pm on Saturday 2 December until 1.00pm on Sunday 3 December Blackboard as a whole will be unavailable to allow the installation of this update. During this 14 hour upgrade period, Blackboard and its integrated tools will not be available to staff or students.
Release: On xxx the new Box View will effectively be released and will replace our current version of Blackboard's annotation tool (Crocodoc).
What do you need to do?
Ahead of the downtime, please review your teaching and assessment schedule to see if any activities which rely on Blackboard need to be rescheduled.
Please advise your students to download any resources they may need for study during the downtime.
Will the upgrade affect previously marked assignments?
Migration from the current to the new tool will be done behind the scenes. Blackboard will retain all existing annotations on coursework which has already been marked in Blackboard before the update.  These will be incorporated into a PDF along with the original document but further editing, updating or deleting of the existing annotations will not be possible.  Assigned grades or feedback added using a rubric will be unaffected. The annotated PDF will be available to view through the Grade Centre.  Please note: students will not be able to download these annotated PDFs.
Guidance and further information
We appreciate that the timing of this upgrade may cause inconvenience to students and staff as it is happening during term time.
Blackboard's own help pages have a preview of the new Box View, here:
Transitioning from Crocodoc to Box View
For further information or support please contact your eLearning team:
Blackboard inline assignment marking gets an update