Interactive Response Systems can be used to get immediate feedback from large groups of students and support active learning in lectures.  They can be used for receiving feedback, providing social interaction, engaging the learners and creating opportunities to respond to students' needs live within the lecture.
In the Faculty of Engineering and Physical Sciences we use two different software systems – TurningPoint (a licenced solution) and mbclick (built in-house).
What do you need to run an interactive session?
The EPS eLearning team can provide you with access to any required software and support you need during the setup and running of interactive sessions.
About TurningPoint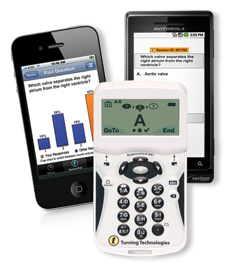 TurningPoint is the software used to create interactive presentations for use in lectures.  TurningPoint integrates seamlessly with Microsoft PowerPoint and allows you to insert voting activities directly into slides.  When an interactive slide appears, students use either clicker handsets or their own device (e.g. a mobile phone) to submit their responses to the question posed by the presenter.  Most students use their own mobile devices to vote, and those without their own mobile device can use clicker handsets loaned to them by the presenter.  Both systems of voting (clicker handsets and personal mobile device) can be used in the same interactive classroom session.
The responses from students using clicker handsets are detected wirelessly by a receiver which is connected to the presenter's computer.
Students with their own device such as smartphones, laptops or tablets can respond to the questions by logging into the ResponseWare website and accessing the session set up by the presenter.  ResponseWare is not limited to a single location and can even be used with distance learning students.
Responses from both systems are instantly compiled by the computer; the results can then be displayed graphically within a PowerPoint presentation.  The data can be saved for reporting and analysis after the session.
TurningPoint supports a range of polling question types including MCQ, Short Answer, Numeric Response and Likert scale.  Students can also be asked demographic-style questions which can later be used for more detailed analysis of the student cohort.  For example, an initial question might ask students to indicate their specific programme of study.  After the session, instructors can analyse all other question responses grouped by study programme, to see where extra support may be necessary for part of the cohort.
About mbclick

mbclick is an in-house solution  designed and built by the School of Electrical and Electronic Engineering.  It is a lightweight, web-based classroom response system that delivers feedback to students directly to their mobile device. Each polling session is set up via the mbclick website and is delivered directly to the students' mobile devices via the website or via PowerPoint.  No software needs to be installed on the instructor's machine.
mbclick does not use any handheld clicker devices; instead it relies on the user's own mobile device.  As well as smart phones and laptops, mbclick also works with ordinary phones through SMS messaging.
mbclick has the capability to provide tailored feedback for different responses to each question. This personalised feedback is sent to each student's digital device and copied via email to those students registered on the system.
If you are interested in learning more about mbclick, including taking part in future trials, please contact Geoff Rubner.
What are the benefits of interactive response systems?
Interactive response systems are a powerful tool to support active learning in the classroom and can also be used to support peer instructional methods of teaching.  It can:
Allow the instructor to ask large numbers of students a variety of different questions;
Give immediate feedback to the students;
Instantly assess students' understanding and adjust the lecture if needed;
Provide reporting tools to analyse results after the session to feed into preparation for the following lecture.
How can we help?
EPS eLearning can provide the required equipment, licences and expertise to support you during the setup and classroom of interactive sessions.
Interested?
If you are interested in using this in your teaching, please contact: elearning@manchester.ac.uk
Further reading
Interactive response systems have been used in the Faculty of Humanities with large student cohorts for some years.   You can read about a number of case studies from Humanities on their eLearning website:
Other interesting reading includes:
Fies, C. and Marshall, J. (2006). Classroom Response Systems: A Review of the Literature. Journal of Science Education and Technology, 15(1), pp.101-109.
Lambert, C. (2012). Twilight of the Lecture. [online] Harvard Magazine. Available at: http://harvardmagazine.com/2012/03/twilight-of-the-lecture [Accessed 20 Nov. 2015].
The feedback loop – Interactive Response Systems