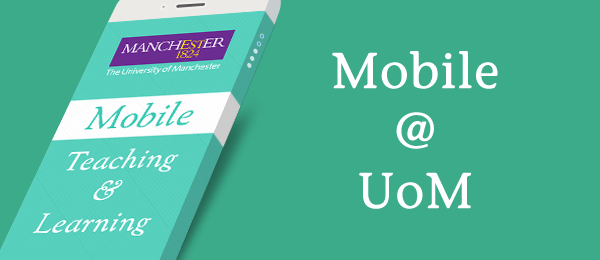 Mobile computing device ownership within the UK has soared in recent years, particularly in the 16-24 age range [1].  In EPS eLearning we felt we needed to build a picture of what our Manchester students are using to access University resources, so that we can ensure the widest platform support for teaching resources we develop, and guide future decision-making about teaching tools.  Since the initial effort that goes into developing online teaching resources can often be significant, this information will guide us in building resources for the long term, rather than having to retrospectively change them to work with yet more platforms and devices.  It may also help us to decide what innovations we choose to pilot in the short term.
Scope of the study
First, we wanted to know what percentage of our students are using mobile devices (smartphone and tablet devices) to access teaching resources and University services versus using traditional desktop web browsers.  Secondly, we wanted to know the percentage breakdown of smartphone and tablet users by the major mobile operating systems (Android, Apple iOS, and others).  The answers to these questions would provide a benchmark for the current landscape of mobile device usage to compare against in the future.
Data sources, reliability and accuracy
Obtaining meaningful data on device usage proved more difficult than expected.  Our initial focus was on Blackboard, the core online teaching tool at the University. This consists of two services: a traditional desktop browser experience and a dedicated mobile app service.  The granularity of this data was fairly poor, but offered enough to provide some useful information.  A second source of data came from Google Analytics tracking for the main www.manchester.ac.uk website.  In this case we were limited by not being able to restrict usage data only to University students and staff as the site is open to the world.  We limited the impact of this by gathering data from connections reported to come from Manchester only, but this would still include any non-University visitors from the Manchester area.
Other sources of data were investigated, in particular from the iManchester mobile app for iOS and Android.  Unfortunately we discovered that the data would be of little use, as Android data usage tracking was no longer working.
Blackboard's desktop service
The usage data for the Blackboard's desktop service reported on the types of browser students and staff used to connect to the service.  However, this wasn't very detailed and in particular, the Android mobile Chrome browser usage was found to be merged in with desktop Chrome usage.  The Android figure reported is only for the stock Android browser, but in more recent Android versions the Android Chrome browser was also installed by default. The Android usage shown here is therefore likely to be under-reported, although based on the average reported distribution of Android versions [2], we can estimate that the correct figure should probably be 20% – 25% higher at the expense of the reported desktop Chrome browser usage.  This data was collected over a six-month period between April and October 2013.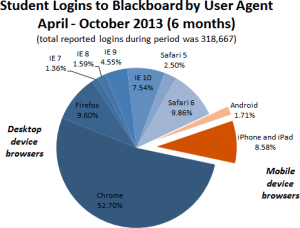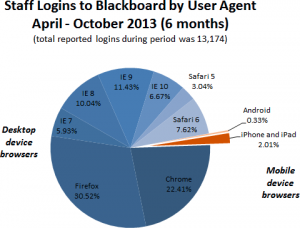 View of devices using Blackboard's mobile service
The available data for Blackboard's mobile service reported on the type of device used to connect to the service.  The chart below represents one month's data.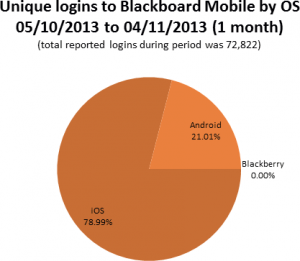 View of devices using www.manchester.ac.uk
The data for devices connecting to the University's central website covers any user reported to be connecting from the Manchester area.  This therefore excludes University staff and students connecting from outside Manchester, but includes non-University visitors connecting from within Manchester.  The charts below represent one month's data.  The number of users connecting using a traditional desktop device was around 95% of all traffic.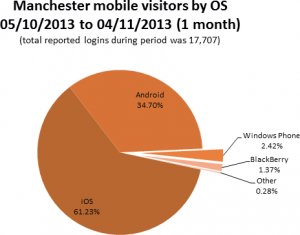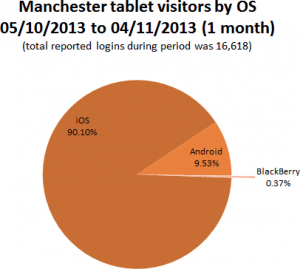 So what does this mean?
In some areas, the quality of the data is far from perfect.  Both the main University of Manchester (UoM) website and the Blackboard desktop service are not currently optimised in any way for the smaller screens of mobile and tablet devices, and this will put off such users from visiting these sites.  Since most staff are supplied with desktop machines for their work, and there are large clusters of desktop machines across the campus for students, this is likely to drive traffic toward using desktop machines.  Despite these limitations, the three different data sources help to build an approximate picture of the current mobile device landscape at the University of Manchester and can certainly act as a benchmark of the present to look back on in 6 or 12 months' time.
Even with these considerations about data quality, the data suggest a number of interesting points.
The Blackboard desktop service data shows that students are around five times more likely to access this service via a mobile or tablet device than staff members.  This fits in with expectations of typical student daily life, where they frequently need to move from location to location accessing services on the go.
The UoM website data show that there are broadly similar numbers of users connecting with smartphones and tablets.  This reflects the trend revealed by UK data on visitors to major e-commerce sites [1].  Desktops dominate as the preferred device to browse the website, however.
Within teaching and learning activities, the proportion of users with Apple iOS devices is around 80% compared to 20% for other devices, which are predominantly using the Android OS.  For the tablet device visitors to the UoM website, this was strongly dominated by users of iOS devices (Apple's iPad and iPad mini).  However, the overall percentages of device popularity differ somewhat from the overall UK averages [3], which show a more even distribution between iOS and Android.
Market expectations undoubtedly point to growing mobile device ownership [4, 5].  Within EPS eLearning, where we support staff in developing new teaching resources, we cannot afford to ignore mobile and tablet device users, nor to restrict our developments to one type of device or operating system.  This presents new challenges, in particular in cross-platform support and in catering for the growing number of current and future devices of different sizes.  It will require new technologies to be introduced and new skills to be learnt among the EPS eLearning team.  We will continue to monitor carefully the changing trends in our sector…
References
[1] The Consumer Experience 2013, Ofcom. http://stakeholders.ofcom.org.uk/market-data-research/market-data/consumer-experience-reports/consumer-experience/ [Last accessed 04/02/2014]
[2] Developer stats on Android platform distribution. http://developer.android.com/about/dashboards/index.html?utm_content=buffer7a7fe&utm_medium=social&utm_source=twitter.com&utm_campaign=buffer [Last accessed 05/02/2014]
[3] Android ends the year on top but Apple scores in key markets. http://www.kantarworldpanel.com/global/News/news-articles/Android-ends-the-year-on-top-but-Apple-scores-in-key-markets [Last accessed 06/02/2014]
[4] YouGov – Smartphone growth in the UK?. http://yougov.co.uk/news/2012/05/09/smartphone-growth-uk/ [Last accessed 06/02/2014]
[5] YouGov – Tablets to nearly double in 2013. http://yougov.co.uk/news/2012/09/11/tablets-nearly-double-2013/ [Last accessed 06/02/2014]
[M-Article Series] Surveying the Mobile Landscape at Manchester University