Introduction
Smartphones and tablets are increasingly becoming a preferred choice for web access among students. In order to meet student expectations for their learning environment,  it is important to consider mobile devices as: i) a vehicle for accessing learning material, ii) a platform for communication, and iii) a means of content generation.
How many students own what devices, and how they are used? The answers to these questions are increasingly relevant when planning learning activities.  Surprisingly, the amount of information in the public domain is quite limited, so it is difficult to make a direct quantitative comparison of mobile device use across the HE sector. We found three surveys with relevant data: from the LSE, the University of Northampton, and the University of Aberdeen.
Smartphone and tablet computer ownership in 2013
As might be expected, smartphone ownership is high among students. The survey by The London School of Economics (1) reports smartphone ownership in 2013 at 94%, and a University of Northampton survey (2) reports ownership at 80% for the same period.  There is some variation between institutions, as evidenced by lower figures reported at the University of Aberdeen, but the trend seems undeniable.
Tablet ownership in 2013
Tablet ownership for 2013 is reported by both the LSE and Northampton at around 35% of students, with Aberdeen at 19%.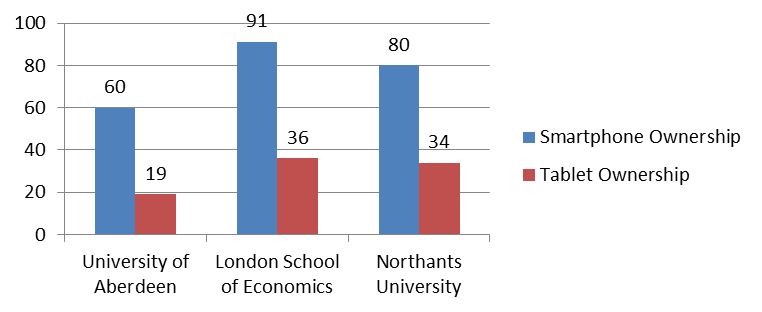 Comparisons  2012 to 2014
The most recent data available were the device ownership figures at The University of Northampton; the survey ran between November 2013 and January 2014.  As the price of tablets continues to fall it is to be expected that there will be a continued increase in ownership.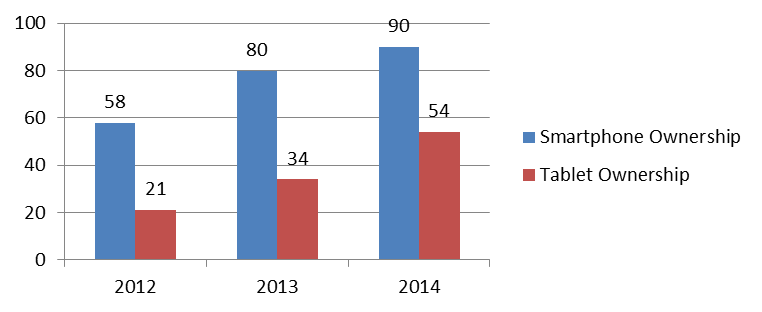 Mobile use to support learning
The survey results from the LSE and Aberdeen University indicate that social media and communication are the primary uses of mobile devices by students; document sharing and communication are the primary uses for supporting studies. The LSE identifies the levels of use of mobile devices for teaching and learning related activities as follows: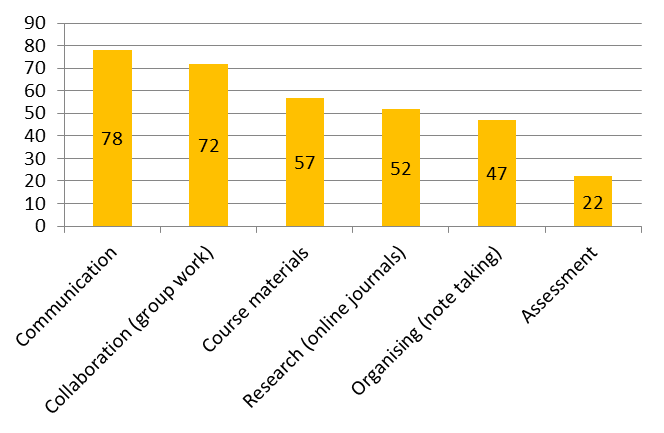 Conclusion
More and more students are using mobile devices in their daily life; implementing mobile learning strategies into the University's  teaching and learning would satisfy students' expectations that they can extend their use of mobile into their learning environment.
References:
'Device Ownership, 'BYOD' & Social Media for Learning': London School of Economics; Sonja Grussendorf
'Mobile Survey': University of Northampton; Rob Howe
'IT Services Student Survey 2013': University of Aberdeen
[M-Article Series] Mobile device adoption in UK Higher Education