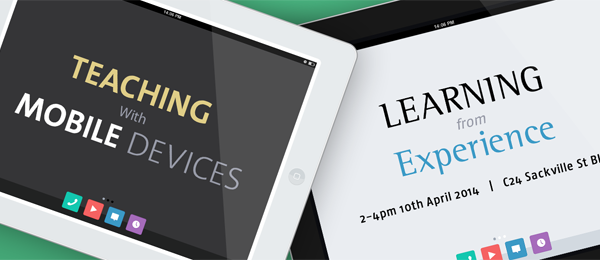 The EPS eLearning team would like to invite you to an event showcasing best practices within the University of Manchester, in the use of mobile technology to enhance teaching and learning. Through a series of presentations, demonstrations and discussions led by academic and learning technologists from the University of Manchester, participants will be introduced to various mobile teaching and learning approaches and see exemplars applied in practice.
Date: Thursday, 10th April, 2014
Time: 2pm-4pm
Venue: C24 Sackville St Building
Speakers include Dr Colin Lumsden from Manchester Medical School,  Ian Miller from Faculty of Life Sciences, Dr Richard Kirkham from the school of MACE and Professor Niels Walet from the school of Physics.
To register, please go to Eventbrite at http://epsmobile.eventbrite.com
The event agenda is available to download as PDF.
Post event message
Thank you everyone for joining the event. We had over 40 attendees from across different schools and faculties, sharing and discussing their experiences and opinions on Mobile teaching and learning. The feedback was extremely positive. Overall, attendees found the content of the event to be excellent(48%) or good (41%). Administration of the event was found again to be either excellent  (62%) or good (31%).  And people found our guest speakers to be highly knowledgeable: 41% responded excellent and 51% responded good.
Attendees commented that these aspects were the most helpful:
Useful suggestions of apps to look into using. Interesting examples of how eLearning is currently used
The diversity of what is already being utilised
Knowledge of opportunities in the eLearning/mLearning area. Very interesting couple of hours
Talking to the EPS eLT team
However, there was also room for improvement, as some commented:
[The event could have had] More demonstrations of applications
Would be nice to have done the feedback form on a mobile device
Provide a list of apps/websites*
You can see the full analysis of the Teaching with Mobile Devices Event Feedback here (PDF).
We will make sure to incorporate your comments and feedback for our next event. Thanks again everyone!
———————————————————————————-
*This is actually provided with the Blooming app Infographic. The webpage contains the web links to each app.
[Past Event] Teaching with Mobile Devices – Learning from Experience