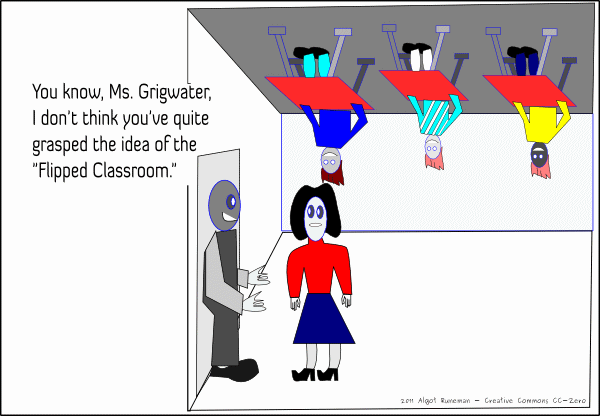 What is the Flipped Classroom?
The flipped classroom model flips the classroom/homework paradigm. What used to be a lecture is delivered outside the classroom  via the internet, by learning objects e.g. videos, elearning technologies, freeing up time so that in the classroom students are involved in active and interactive learning experiences facilitated and supported by the tutor; moving homework to the classroom. Moving lectures outside of the classroom gives students the opportunity to ask questions, work through problems, collaborate with peers – creating a collaborative learning environment. The flipped classroom as a concept has been around for a while, but it is becoming increasingly easy to implement with the advent of new technologies.
Flipping the classroom – making it work in practice
This free cross-Faculty event took place on Wednesday 19th February 2014 in the Sackville Street Building. Below are links to resources, recordings and presentations from the event.
Patrick O'Malley (School of Chemistry) Will flipped teaching lead to the end of the traditional lecture?
I will provide a general overview of the  Flipped Classroom approach and its relevance to future directions in university teaching.
Ralf Becker (School of Social Sciences – Economics) Flipping Tutorials.
I will talk about my setup used for flipping tutorials and exercise classes in the context of course units with high quantitative content. My experience is that students and GTAs appreciate the changed setup. When asked it is student's overwhelming judgement that the flipped format improves their learning.
Thomas Nuhse (Faculty of Life Sciences) Experimental flipped lectures…  and it went surprisingly well.
I share my recent experience of implementing three experimental flipped lectures to 350 first year students.
Download PDF| Link to screencast
Wendy Olsen (School of Social Sciences – CCSR)Teaching Social Science with Embedded Survey Data Using Flipping.
I describe the teaching materials and the learning experience of a 'flipped lecture', perhaps best called a lectorial. This form of flipping in a large applied statistics course unit helped student grades go up.  I discuss ways to improve student satisfaction in the context of 'flipped' teaching techniques.
Download PDF | Link  to screencast
Andy Brass (School of Computer Science) Flipping, sprints and scenarios: strategies for interdisciplinary learning at the computing/life science and medicine interfaces
The talk will  describe the strategies we have developed over the past 20 years to support student learning at interdisciplinary interfaces. In particular it will explore the way in which we have merged ideas of flipped learning, best practice borrowed from agile software engineering methodologies and techniques from scenario-based learning, to guide students through the process of learning how to function at interdisciplinary interfaces. Examples will be drawn from courses we have developed to train the next generation of clinical bioinformaticians in the NHS, and supporting computer scientists to transition to work in health and life sciences. through extensive use of scenario based-learning.
Download PDF | Link to screencast
[Past Event] Flipping the Classroom