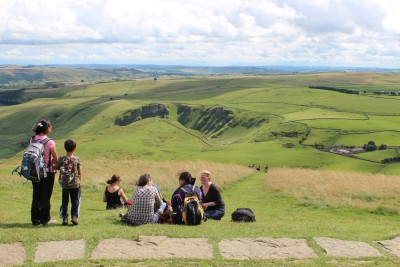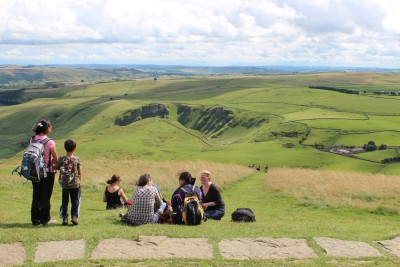 Last summer we guided thirty members of the general public around the Hope Valley and Mam Tor, teaching them about the geology of the area. We did this using a mobile app called Discover Geology: An Augmented Reality Field Trip.
The development of this Augmented Reality (AR) application grew out of a collaboration with Dr Steve Boult of the School of EAES, who was re-developing an MSc course for distance learners.
An important aspect of Steve's course was the field trip. We had to come up with a way of enabling students who may never set foot on campus to experience Steve conducting a field trip, and imparting his knowledge "on the ground" in the Peak District.
We looked around for technology that would allow us to do this and thought Augmented Reality would fit the bill. We'd been hearing good things about the John Rylands SCARLET AR project produced by Mimas, the higher education technology development group. We met with Mimas and agreed that we should collaborate on this project, drawing on their previous experience in AR technology.
Producing an AR application was not going to be without cost, so we applied to the Manchester Fund, whose remit requires a strong outreach element to projects it supports, which aligned well with our need to reach distance learning students. With this in mind we also approached the Manchester Museum to join the project, bringing their expertise in public engagement and a wealth of resources from the Museum collection, and together our application to the Manchester Fund was successful.
Although we had a commitment to public engagement we made no concessions to "dumb down" the content and made sure it was appropriate for MSc students. By working closely with Steve Boult throughout the project we made sure the application would show and tell users about the rich geology of the Hope Valley and Mam Tor, and incorporate activities for them, such as feature finders that allow users to discover for themselves fossils, oil deposits and minerals. The approach paid dividends, as the feedback from the first group of general public users proved to be overwhelmingly positive.
Download the Junaio AR application to your Apple or Android device.